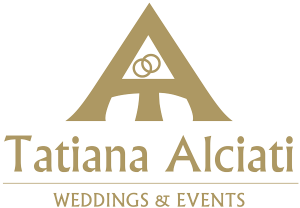 Tatiana Alciati Weddings & Events is an agency with two offices located in Italy and Switzerland.
We speak English, Russian, Italian and German.
During Weddings & Events organization we pay attention to every single detail in order to satisfy all our client's needs.
We are eager to create a relationship based on trust and full transparancy. That is the main reason why we choose only reliable partners for being able to guarantee a reasonable pricing policy and a high quality of services for our customers.
OUR MAIN PRIORITY
As soon as we start planning your very special day, you will be offered a best selection of local supplies
fitted to your preferences and what is the most important to your budget.
We will take a complete care by offering unique, special and personalized services.
You will be satisfied by a quality of our job and appreciate the way we work.
As a result you and all your guests will definately enjoy every moment and collect longstanding positive emotions.

ATTENTION!
From MAY to SEPTEMBER 2018 there is a special discount on agency service.
SAVE THE DAY.

FOLLOW US ON
Get married in Italy or Switzerland?
Contact us and let's start to realize your dream!

+41 77 98 77 630
+39 344 044 2319